After binge-watching practically everything new on Netflix, it's time to cast the net backwards to rediscover old classics, beginning with the 2018 Netflix Original show, Everything Sucks!
It was a show that was largely praised at the time for its overtly wholesome content, yet it was cancelled after just the one season; Netflix's Original Content VP, Cindy Holland, stating that, "because we were seeing a much lower completion rate of the whole season, we realized that it is very unlikely that we would be able to grow the audience, move a whole new audience through the show and have a large enough audience to justify a season two."
However, despite it's early cancellation, over time it has garnered a near cult-like following. Dealing with issues of mental health, commentary on LGBTQI+ issues, as well as grief and abandonment, Everything Sucks! accurately and amusingly portrayed the struggles faced by teens making their way through High School. That it did so through a diverse cast, the show is one that deserves to be firmly on people's watchlists. 
Written by Michael Mohan and Ben York Jones (who also stars in it), Everything Sucks! is set in 1996 in the town of Boring, Oregon. Throughout the season, we follow protagonist AV Nerd Luke (Jahi Di'Allo Winston), and his two best friends Tyler (Quinn Liebling) and McQuaid (Rio Mangini), as they navigate their way through their Freshman year of High School. Quickly forming an attraction to the principal's daughter Kate (Peyton Kennedy), Luke is thrust into a precarious situation when he takes the blame for something she did. Thus begins the season-long feud with the Drama Club, one that can only be resolved by promising to make a movie with them in it. 
Whilst this is the vague outline and Luke is "technically" the protagonist, the show isn't afraid to meander tangentially. Everything Sucks! often works similarly to shows that have an ensemble cast as it possesses multiple offshoots of plot involving several "lead" characters.  
We follow Luke's mother Sherry (Claudine Mboligikpelani Nako) and Kate's father Ken (Patch Darragh) as they form a romantic relationship based upon the difficulties of being single parents, the mutually understood feeling of loss, and their lust for reliving the carefree nature of their youth. Whilst their children frolic around making a movie, falling in and out of love and generally stumbling through their formative years, Sherry and Ken are actively trying to relieve theirs. Seeing the pair sneak out to TP someone's house, smoke a joint in the school car park, and break into the school to get their munchie fix summarises the joyous frivolity of their romance and adds an extra layer to the show.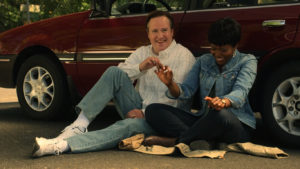 Also present are quirky bonding moments between the AV Nerds and the Drama Club that gift the show with a similar vibe as Freaks and Geeks. Comparisons can also be drawn with Stranger Things at times, with the freshman/sophomore dynamic echoing that of Steve Harrington and the core group of kids. Whilst these comparisons have often been listed as detrimental to the show, it's difficult to understand why. Everything Sucks! is undoubtedly reminiscent of them at points, yet its charm lies in the nuance of its main characters. Peyton Manning's performance is a credit to the show, one that feels tender and understated yet powerful against the noise of the other drama unfolding across the series. To relegate the show to a '90s Stranger Things or Freaks and Geeks does it a disservice and misleads potential viewers; there's a beating heart to the show that gives it a unique life of its own. 
When it comes to Everything Sucks!, it would be remiss not to mention its fixation on High School romance. Perhaps its strongest narrative thread is that of the fearless and remarkably strong way in which Kate comes to accept her sexuality. The burgeoning romance between Kate and Emaline feels organic, growing steadily throughout the season. There's a great awareness that the show has of its audience and actors; the romances feel age appropriate and the issues real, something that's to be applauded.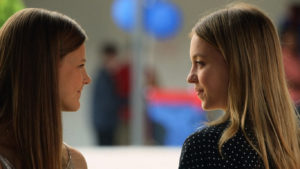 In terms of its setting, by placing the events of Everything Sucks! in the '90s, it allows the show to have a charming sense of nostalgia pre-built into it. There's a charm to the bulky computers with the painfully slow dial up internet, the pagers and the VHS tapes that contribute to the fondness that's felt for Everything Sucks!. 
The soundtrack further adds to this nostalgic haze, with features from Tori Amos, Ride, Oasis, Spin Doctors, Ace of Base, and The Cardigans to name a few.  
The use of music within the show is specifically transportive. The connection that's felt to music as a teenager is explored in depth through Kate's obsession with Tori Amos amongst other musical references, including a seminal nod to Oasis. In fact, episode two is titled "Maybe You're Gonna Be the One That Saves Me" in reference to "Wonderwall", a track that Kate claims is "kind of saving my [her] life right now". As opposed to being jarred out of the show by such a well-known song, the effect is one of complete euphoria; the reactions of Luke and Kate recapture what it felt like to hear "Wonderwall" for the first time, something that's nothing short of sublime. 
Other examples of the power of music within the show include watching our core group travel to Dominguez Rocks, singing along to "Beautiful Life" by Ace of Base, shown as a moment of solidarity and carefree youth. Elsewhere, Kate and Luke travel to Portland to see Tori Amos perform which  sparks a moment of self-growth and acceptance for Kate. For Kate, seeing Tori Amos and hearing her sing "Silent All These Years" ignites a need to live without shame and self-rejection. 
In its essence, Everything Sucks! is a true and humbling portrayal of High School life. There are deep and thoughtful narrative threads dealing with questions of the self and your own identity that are explored with care and real heart throughout. Its core themes of acceptance, friendship, and growing up with as much grace and fun as possible speak to the inner child in every viewer. Whilst it's a crying shame that there will never be a follow up season, as the show truly had more to give, perhaps its better that Everything Sucks! remains a singular crown jewel.