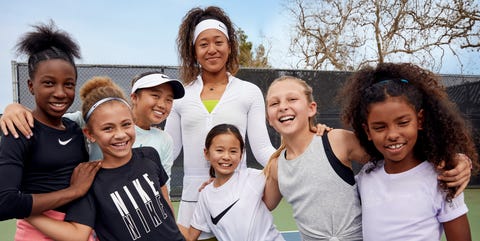 Courtesy of Nike / CAMPFIRE LLC
"It's funny because I don't even think of myself as a role model," pro tennis star Naomi Osaka tells ELLE.com in an email interview. "I'm 22 and figuring out life and trying to grow." What's actually funny is that her true talent is downplaying her accomplishments among them winning her first Grand Slam against Serena Williams—the first Japanese woman to ever win the singles title—and was 2020's highest-earning female athlete. Now she's setting her sights on even more. Although she's anxiously awaiting playing in the postponed 2021 Tokyo Olympics, she has plenty to keep her busy: Namely, the forthcoming US Open (starting at the end of August) and her new role as an ambassador for Nike's latest initiative.
"I'm sure I've made some mistakes along the way but the biggest thing I can do is to try and stay humble and be true to who I am and what I believe in and help others as much as I can," she says. To call herself humble is an understatement.
In an op-ed written for Nike's website, Osaka notes the responsibility of representation—"someday, maybe there will be a little girl who picks up a tennis racket because she sees someone who looks like her step out onto the court."—while pointing out the grim statistic that girls are twice as likely to drop out of sports than boys. To combat this, she's joining Nike and Laureus Sport for Good for The Play Academy, a grassroots initiative aiming to change girl's lives through play and sport. An offshoot of the Nike's existing Made to Play launch, this program uses grants and supports capacity-building training for community organizations and coaches who are trained in gender-inclusivity to create positive play experiences that, hopefully, increases girls' participation in sports.
This encouraging atmosphere is made that much better with Osaka's involvement, who's known and loved by fans for being down-to-earth and relatable. "I think being a role model is also about being real as a person and being there for others, checking up on them, and standing up for them when they need you." She recently admitted on Twitter that she's learning to overcome her shy demeanor, which had become a trademark for her.
"One of the biggest lessons I've learned that helps me be a better role model is just to be comfortable with who you are, to not be afraid to use your voice." Since then, she's used her platform to speak out against racial injustice and even bashed naysayers who shamed her for posting bikini photos. When it comes to her time in quarantine, Osaka reflected on what's important to her: "I feel like I'm now closer to and appreciate my friends and family, especially my sister, Mari," she says. "I also realized that I took the tennis season for granted and really miss competing."
This content is imported from Instagram. You may be able to find the same content in another format, or you may be able to find more information, at their web site.
Osaka's announcement comes on the heels of Nike's latest ad, a third installment of the film You Can't Stop Us, a feat in editing. Narrated by Megan Rapinoe, the video juxtaposes top athletes like Osaka, Lebron James and Serena Williams alongside amateurs and everyday participants—reminding us that not only is sport endlessly accessible, but brings us together, even during a lockdown.
This content is created and maintained by a third party, and imported onto this page to help users provide their email addresses. You may be able to find more information about this and similar content at piano.io