Earlier this year, musician and composer Aaron Kiely released his debut album, Long Nights in Dark Rooms.
Aaron's portfolio is an eclectic mix, including the soundtrack to the sci-fi comedy short Man-tis!, as well as the new melodies on his recent album. In Long Nights in Dark Rooms, each track flows into the next with a melancholic and contemplative tone.
Our Culture sat down with Aaron to talk about his album, his inspirations, and what's next for the composer.
Hello Aaron, thanks so much for speaking with us. Please introduce yourself for our readers.
Hey, it's a pleasure to speak with you and thank you for having me. Hello to all the lovely Our Culture readers out there. I'm Aaron! I'm a musician and composer from the north east of England. My main focus is creating music for film but I occasionally dabble in my own work as well. I just really enjoy the creative process, especially when it's a collaborative one, as I find working with other creative people really fuels my own creativity. I love a good story and I've probably watched The Lord of the Rings more than any other human on the planet. 
How does it feel to have released your new album?
It's a strange mix of excitement and anxiety. This album has been mine and mine alone for so long. To have other people listen to it and make their own judgements is a little nerve-wracking. I'm looking forward to hearing what people have to say.
In your words, what is this album about?
For me, this album is about having somewhere else to go, an escape. The title, Long Nights In Dark Rooms, has quite a literal meaning; the job I was in at the time had me starting work at early AM hours, I'm talking one or three o'clock in the morning. This meant I would be awake and alone at night, every night, until I had to leave for work which can be quite an isolating feeling. The music was kind of born from that isolation and that's what I tried to portray when writing. The simplicity of the music I was creating meant I didn't necessarily have to concentrate too hard on the technical or theoretical aspects of the writing process but focus more on feeling and where the music was taking me, the natural ebbs and flows of emotion.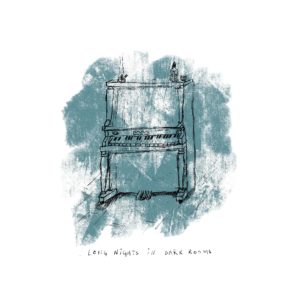 The tracks beautifully blend and flow into one another. What made you choose this form?
I think, to follow on from the last question, this album is an amplification of how I felt at that one specific moment in time. It felt quite organic for me to be able to sit down and play the album through in its entirety, almost like one 14 minute piece, so the first 3 tracks are written in the same key signature, starting and ending in ways which I could naturally carry on into the next. After the third track, House of Blue, I wanted to change the tone to feel more uplifting and hopeful so instead of all the melodies falling, the next two tracks, Breath and Sunrise, move up a key and have melodies that rise to end on a more positive note.
How long were you working on the tracks?
I think the whole process took around six to eight months. It wouldn't be unfair however to say it took me three months to write the tracks and then five months to meticulously go over every note and decide whether it should be there or whether it should be a different note entirely… I'm terrible for that.
What would you like to explore in your music next?
I get very inspired by small things, whether it's a sound, a conversation or something I've read and I tend to throw myself into it with both feet. It can get quite experimental and it's always a different experience. I think each release will reflect a moment in time and whatever I am experiencing or going through at that particular moment, so we'll have to see where I'm at in my life the next time inspiration strikes. Let's hope for something a bit more upbeat for my next venture.
Where can people find your music?
iTunes, Apple Music, Spotify, Google Play, YouTube… basically any and all music stores or streaming services. Just search Aaron Kiely or Long Nights In Dark Rooms and look for my face or that beautiful album art by the extremely talented Karl Jones and Sam Prentice.
Finally, how do you define 'culture'?
'Culture' to me can be defined as the way individual styles, thoughts and ways of being collaborate with each other to build a richer, more diverse and more collective society.
We can't thank Aaron enough for talking with us. We recommend our readers listen to Long Nights in Dark Rooms, and we can't wait to listen to what Aaron produces next.