A rare Ella Fitzgerald live album is getting its first ever release. Recorded at Berlin's Sportpalast in 1962, The Lost Berlin Tapes comes out October 2 via Verve. Below, you can hear one of the recordings, 'Mack the Knife', alongside an animated video, and scroll down for the album's tracklist and cover artwork.
The concert took place just two years after Fitzgerald's seminal release, Ella in Berlin: Mack the Knife, and sees the jazz singer performing alongside a trio consisting of pianist Paul Smith, bassist Wilfred Middlebrooks, and drummer Stan Levey. A recording of the concert was discovered unopened within the private collection of Norman Granz, Verve Records founder and Fitzgerald's longtime manager, who regularly recorded her concerts.
The Lost Berlin Tapes will be available to purchase on vinyl, CD, and digitally. Pre-orders are ongoing.
The Lost Berlin Tapes Cover Artwork: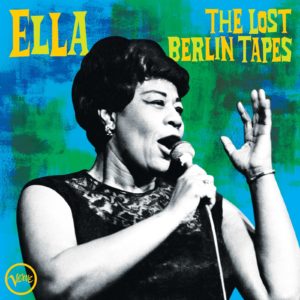 The Lost Berlin Tapes Tracklist:
1. Cheek To Cheek
2. He's My Kind Of Boy
3. Cry Me A River
4. I Won't Dance
5. Someone To Watch Over Me
6. Jersey Bounce
7. Angel Eyes
8. Clap Hands, Here Come Charlie
9. Taking A Chance On Love
10. C'est Magnifique
11. Good Morning Heartache
12. Hallelujah, I Love Him So
13. Hallelujah, I Love Him So (Reprise)
14. Summertime
15. Mr. Paganini
16. Mack The Knife
17. Wee Baby Blues