Designer Sue Wong threw an epic New Year's Eve bash at her historical estate, The Cedars.
Drinks and food flooded generously along with super jams, entertainment and wild times.
Celebrity guests included amazing light workers Sacha Stone, Michael Jaco, SHIFU Abbot Yeanfan of the Shaolin Temple, and the Reverend Patrick McCollum, actors Billy Zane, Sadie Katz, Two-Time Emmy Winner Vincent DePaul, John Barrymore, Mike Ferguson, Al Burke, TV Talk Show Hosts Jimmy Star and Ron Russell, Rockers Scott Page, Chris Pitman, ARO Rose, John Walsh, Hip Hop superstar YNG Zuck, Violinist Scarlet Rivera, Zac Jaydon from Pop Wrapped, fashion icons Richie Rich and Mister D, producers and directors Joseph Kelly, Jackie Kong, Scott Engrotti, Dave Bailey, Two-Time Emmy Nominated Showrunner Myles Reiff, E Entertainment founder Larry Namer, Dustin Quick and husband Medi EM, and socialites Christophe and Gabrielle Choo and Faith Harrington Boutin to name a few.
Sacha Stone is a British New Age Influencer known for founding The International Tribunal for Natural Justice, The New Earth Project and the New Earth Festival which he hosts at his private resort, Akasha New Earth Haven, in Ubud, Bali.
One of the highlights of the evening was a performance by Scarlet Rivera, the official violinist of the World Peace Violin. The World Peace Violin serves as a powerful metaphor for both the beauty and diversity of our planet and for the successful integration of its religions, cultures, and people. It is bringing peace to the world.
The Reverend Patrick McCollum is an interfaith chaplain, spiritual mentor, author, and peace counselor. He built The Peace Violin himself using elements from various wars and which he taught himself to play. He now plays The Peace Violin all over the world and at historic events.
Since its conception, The Cedars has subsequently served as host for a constellation of legendary Hollywood stars and musical royalty including Norma Talmadge, Joseph Schneck, founder of 20th Century Fox Studios, Béla Lugosi, Errol Flynn, Howard Hughes, Marilyn Monroe, Jimi Hendrix, Lou Reed and the Velvet Underground, Andy Warhol, Dennis Hopper, Bob Dylan, Jim Morrison, John Phillips, Brian Jones and The Rolling Stones, as well as Johnny Depp. It has also been featured in a number of Hollywood film classics, including Sunset Boulevard (1949) and Easy Rider (1969).
The Cedars was a famed Rock palace in the 1960s and has hosted many former rock legends as former residents. The idiomatic expression "If These Walls Could Talk" is not merely an expression but a living ritual that unfolds time and again at The Cedars when today's musicians from all corners of the world celebrating music in all genres, grace its living spaces. Each and every one of us has our own energy that we emanate. There are metaphysical studies that examine how walls are equivalents of sponges having the ability to "house" the sound and soul of the music once played within given confines.  It is said that Jimi Hendrix composed the iconic "Purple Haze" while residing at The Cedars.  There must undoubtedly be something very powerfully true about these walls being ears and magnets, bearing testimony to the incredible vortex of creativity and artistry which unfolded within The Cedars ever since it was conceptualized and built by silent-screen MGM French film director Maurice Tourneur in the years between 1921 and 1926.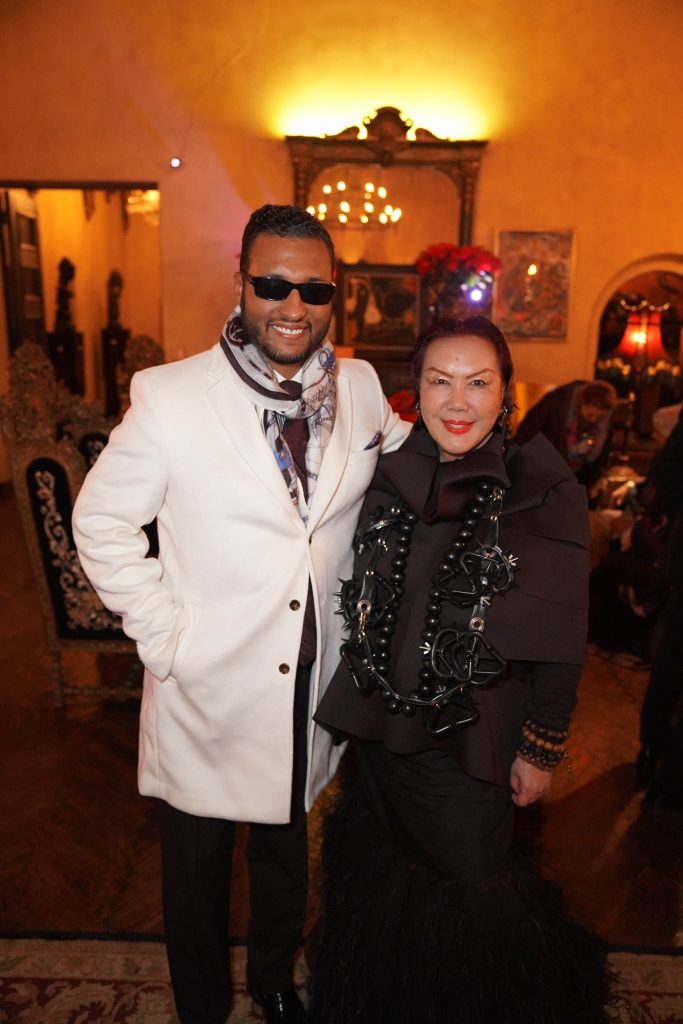 Beverages were provided by Antoine Michel Casanave, the President of Casanave Luxury, The Casanave Group, LLC., where guests were served the finest liquors including Bumbu Rum, Luc Belaire Champagne, Villon Cognac, McQueen and the Violet Fog Gin, and Sovereign Brands.
Truly a night to remember, as it was the invite of the year, and Sue Wong definitely knows how to entertain in a historic fashion. Here's to an incredible 2022…..
Photo Credit: Dave Pascal