Tactical clothing has become increasingly more popular in recent years. Once thought to be reserved for either military or law enforcement personnel, this rugged clothing style is now commonly worn as everyday menswear. Read on to learn more about the origins of tactical clothing and how it applies to modern men's fashion today.
What's tactical clothing?
The word "tactical" refers to anything that supports tactics implemented by military or law enforcement in order to achieve an end goal. In general, tactical clothes are designed with the intention of being durable, comfortable, and versatile to help support the objectives of the wearer.
That being said, tactical clothing has made the leap from being worn solely by professionals, to being worn by the fashion-conscious civilian population.
What characterizes tactical style?
There is a wide variety of tactical clothing available. Some examples include pants, shirts, outerwear, footwear, eyewear, bags, and more. The characteristics of tactical clothing varies depending on the type of clothing.
For example, tactical pants often feature many pockets down the outside of the legs. These are intended to store any tools and supplies that may be necessary during one's course of action.
Tactical shirts are generally made with strong, comfortable material that allows the wearer to access their full range of motion. They can often be intended for cool weather, with certain materials being more insulating than others. Or they can be designed for intense heat, with some tactical styles offering more breathability and sweat-wicking properties.
Another factor that is taken into consideration when designing tactical gear is that in certain high-intensity situations, the wearer may not have the opportunity to remove or wash their clothing for days or more. Because of this possibility, the comfort and anti-chafing abilities of tactical clothing is of the utmost importance.
All of these themes can be found throughout various types of tactical gear. The exact qualities a tactical clothing item possesses will depend on its intended use. Overall, clothing can generally be classified as tactical if it features lots of practical storage features, and is designed to be comfortable and flexible.
Who wears tactical clothing?
Traditionally, tactical gear was usually only worn by military personnel, law enforcement officers, or first responders. But the tide has shifted in recent years, and people from many different backgrounds now enjoy wearing tactical-style clothing.
Shooting sports enthusiasts, outdoorsmen, and hunters are all examples of people who benefit from wearing tactical clothes. In addition to these examples, people involved in many different types of outdoor activities or sports can find tactical clothing to be very useful.
Everyday carry (EDC) practitioners are another subset of the population that greatly benefit from wearing tactical clothing. For those who are passionate about the EDC lifestyle, there are a wide variety of tactical backpacks, shoulder bags, and waist packs available that feature many easily accessible storage compartments for their gear. Modern tactical bags are well-designed, with the perfect balance of utility and fashionability.
That being said, you don't have to have any practical application in mind in order to wear military-inspired clothing. People from all walks of life enjoy wearing tactical clothing simply because they enjoy the aesthetic.
Is tactical clothing fashionable?
Due to its rugged appeal, tactical clothing has embedded itself into the modern men's fashion scene. Jeans that feature a multitude of pockets, jackets made of heavy-duty canvas, and shirts made with a wide variety of camo prints are all examples of military-inspired clothing items that the average citizen can enjoy wearing.
In regard to prints, tactical clothing is available in many different patterns that are considered extremely on-trend. If you are someone who has traditionally associated military fashion with the standard army green, you'll be pleasantly surprised to find that there are a wide variety of unique colorways available to you. Prints like digital camo, hunting camo, colored camo, checkered plaid, and classic plaid are all very popular in the tactical fashion world.
Tactical clothing is considered highly fashionable by anyone who is interested in apparel that embodies masculinity and strength. The style has become widely adopted by mainstream culture, with celebrities and fashion influencers alike frequently donning military-inspired pieces.
Tactical Fashion on the Runway and Beyond
Heavily inspired by the military jackets donned by military personnel, this runway look demonstrates how casually cool a tactical jacket paired with a simple pair of jeans can look.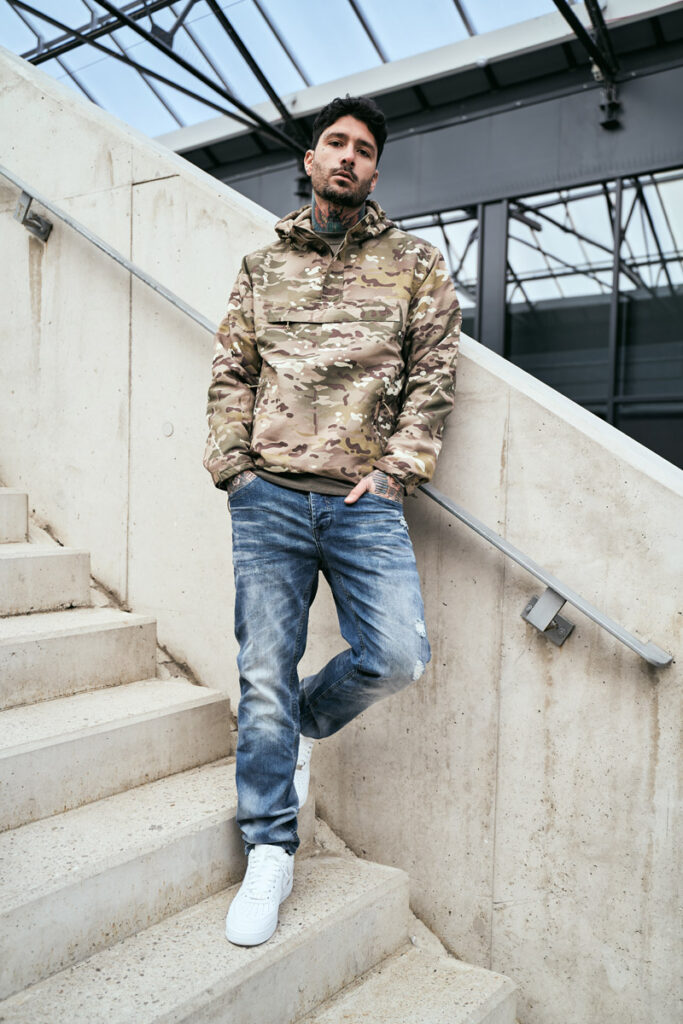 Bold military wear has taken the fashion world by storm. This outfit combines a oversized jacket with a pair of jeans, military boots and a classic beanie to create a monochromatic fashion statement.
Accessorizing your outfit can make all of the difference in the final look. Adding tactical bags over your tactical clothing really pulls it all together, and can turn even a simple outfit look into a rugged military-inspired masterpiece.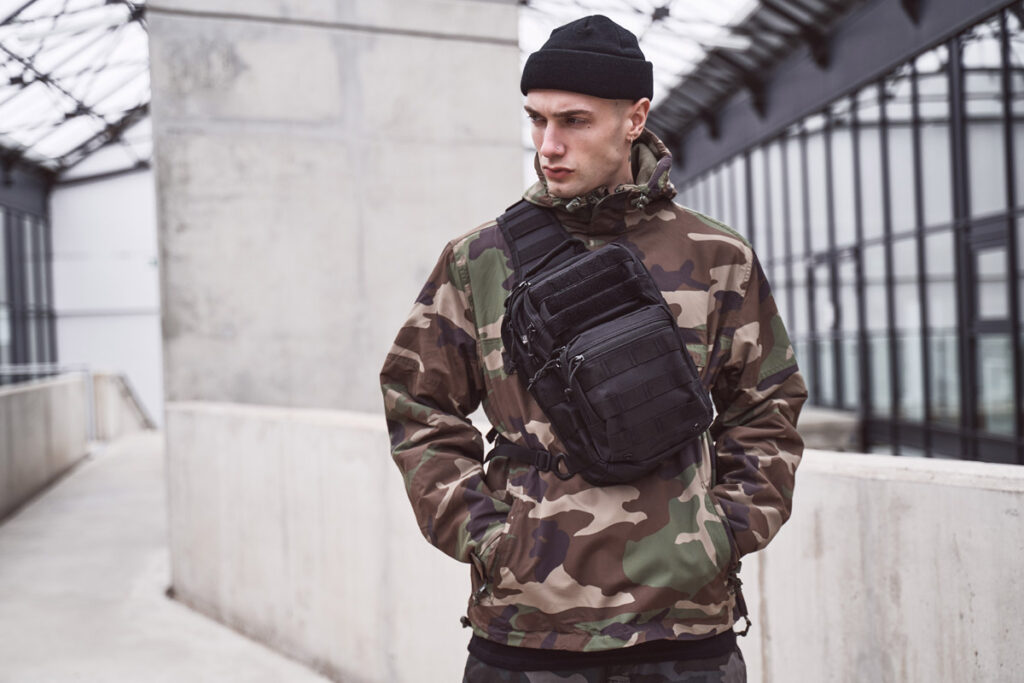 Where to buy tactical clothing?
Thanks to the internet, you no longer have to trek all the way down to your local military surplus store just to buy tactical clothing. In this day and age, it's never been easier to order high-quality tactical apparel from online retailers.
With international stores based in the United Kingdom, the United States, Canada and beyond, the tactical fashion you're looking for is just a click away.
How to Style Tactical Clothing
While there are no hard and fast rules to styling your tactical clothing, here are a few tips you can use when putting together a military-inspired outfit.
Tactical Clothing as Streetwear
You can't go wrong pairing a denim jacket with a pair of cargo trousers. You can also layer your jacket with a hoodie underneath for added warmth. For a more modern look, opt for trousers with a tapered leg. Finish off the outfit with a pair of rugged black sneakers and you've got the perfect tactical outfit.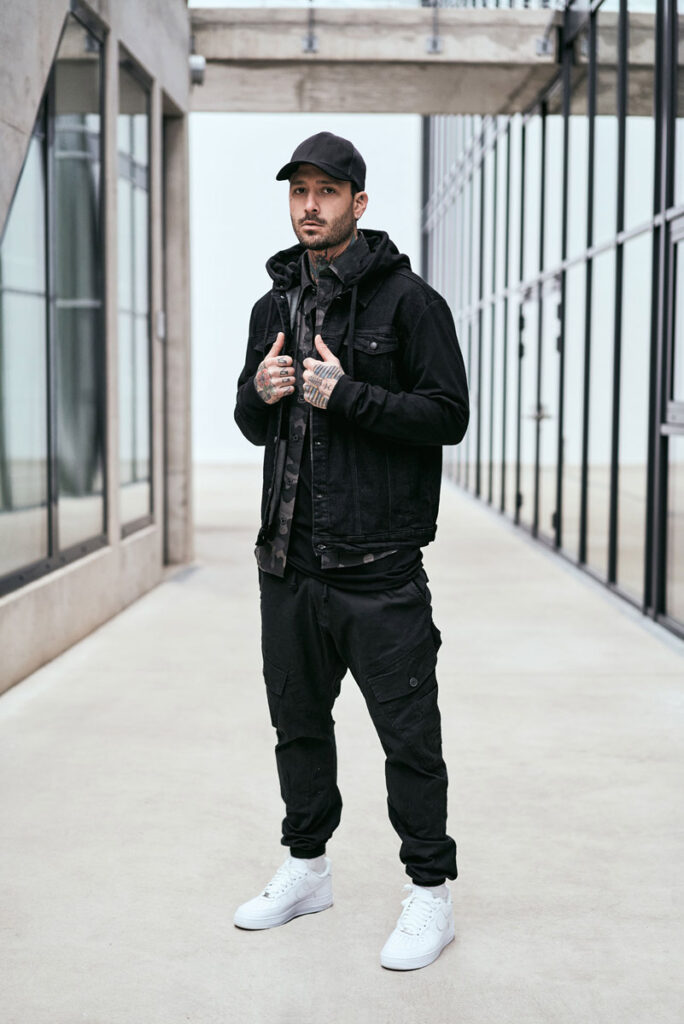 Styling Classic Camo Tactical Clothing
If you've got your finger on the pulse of fashion, you've likely noticed the rise of classic camouflage print in street fashion. In recent years, this print that was once reserved only for the hunting community has made a huge surge in the mainstream fashion world. For a casual tactical look, add a hoodie and a matching pair of sneakers to your camo cargo trousers.
Tactical Fashion in the Wild
If you intend to take your tactical gear adventuring, you don't have to sacrifice style on your journey. While items like high-top mountain boots and a rucksack will provide practicality, combining them with a pair of well-fitting cargo trousers and a military -style jumper make for the perfect expedition outfit.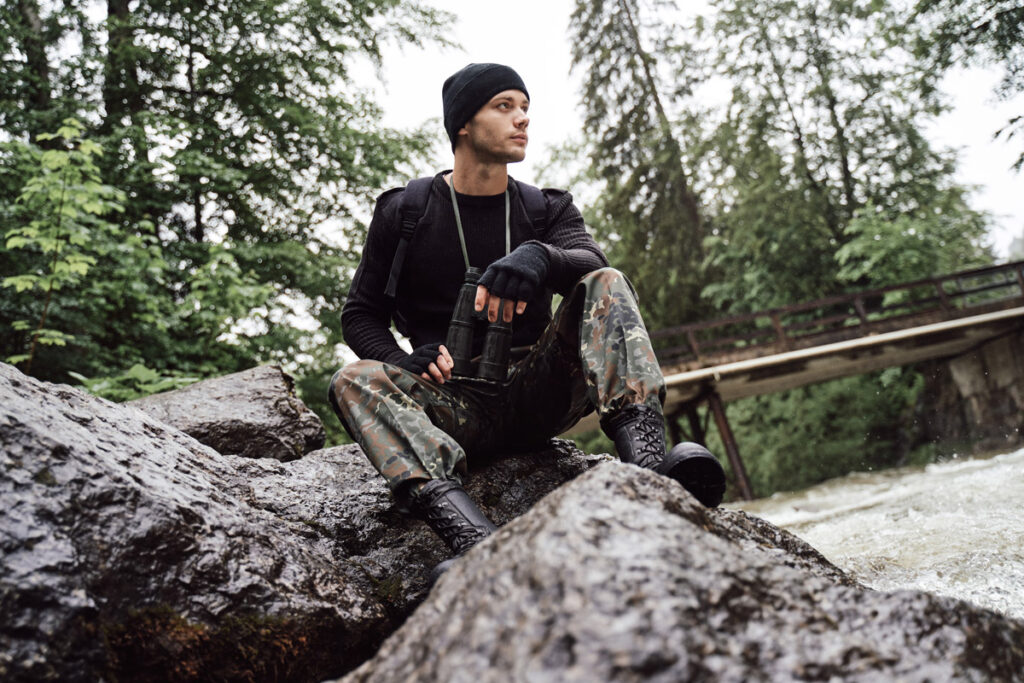 Is tactical clothing good for informal/formal occasions?
Typically speaking, tactical clothing is meant for informal occasions. It is usually put to use in settings including (but not limited to) combat, shooting sports, first response situations, outdoor adventuring, or simply casual situations. But, that isn't to say that one couldn't get creative and find a way to incorporate tactical wear into a formal ensemble. It could be refreshing to see a suit jacket paired with a pair of tactical pants, or a waist pack worn over a tuxedo.
When it comes to fashion, there are no definitive rules about combining contrasting styles. In fact, it is encouraged so you can develop your own unique fashion sense. But, it is always a good idea to check with the dress code of the establishment or event you are attending before determining how creative you are able to get. While we are big fans of tactical clothing and believe that a field jacket is always a good idea, there may be certain settings where formal attire is deemed more appropriate.
Make No Mistake: Tactical Fashion is On The Rise
Whether you recognized it or not, you've likely seen tactical fashion out and about. Whether it's shown on the cover of a magazine, worn by a guy in the street, or worn by an actor in a TV show, tactical styles have permeated almost every facet of our media and culture. And for good reason! For decades, this unique clothing niche has been tweaked and perfected by military professionals, outdoorsmen, and fashion enthusiasts alike. Once an underground minority in the fashion world, tactical fashion has grown and evolved into an extremely popular component of men's fashion.
Are you an avid tactical clothing wearer? Or are you just dipping your toes into the vast world of tactical fashion? No matter what activities or hobbies you participate in, we hope that we've helped to educate and inspire you to embrace tactical fashion yourself.