This summer and last, I had the pleasure of performing in Prejudice and Pride, a gender-swapped, American folk musical retelling of Jane Austen's Pride and Prejudice. Instead of the English countryside, the show was set in East Tennessee. Lizzy Bennett became Bennett Longborn. Mr. Darcy became Ms. Darcy Fitzwilliams. And for my part, I played Luke Charlton, the pastiche of Charlotte Lucas.
For those unfamiliar, Charlotte is Lizzy's best friend. Like all young women of the time, she is expected to marry as quickly and as well as possible. Possessing even fewer prospects than Lizzy or her sisters, Charlotte accepts the proposal of the odious Reverend Collins. She doesn't marry for love but because she sees no other choice.
In our musical adaptation, the Reverend Willamina Cole sweeps into Longborn Hollow, Tennessee, intent on finding a "suitable husband." She finds the eldest Longborn brother, Jake, already involved. Lyle, the baby brother, is not intelligent enough. And as Lizzy does to Collins in the book, Bennett turns her down cold. So there is Luke, who wins her hand by default.
Being who I am, an author and contributor here, I'd read Pride and Prejudice long before being cast as Luke Charlton last year. I understood, then, that Charlotte represents the everywoman. In the early 1800s England, a woman had virtually no path through life without a husband. She could not own property or vote and had few options in terms of employment. Charlotte makes the only choice she can at 27 years old, which is to accept the first reasonable proposal made.
Playing Luke Charlton, the Charlotte pastiche, over 90 times gave me a deeper appreciation and understanding not only of Charlotte but of the Pride and Prejudice text overall. I had a solo song called "Through the Glass," which echoes the sentiment of Charlotte's speech to Lizzy just before Lizzy leaves Charlotte. In the song, Luke starts feeling rather happy about his decision but realizes that he's actually not happy. He has wealth and a home, but he hasn't chased any childhood dreams. Nonetheless, when Bennett asks him what he's going to do next, he says, "I chose my road, Benny. We're both out here just living life and treading whisky as best we can."
Performing on stage, though, is akin to writing a character. It forces you to really think about what that person is going through, about the decisions that they've made, and how they feel about them. I imagined that Luke was working on a road crew, barely making ends meet and sometimes going hungry. Once he marries the millionaire televangelist, he finds himself a kept man. He has no worries and doesn't need to think about money, but he also doesn't know what his purpose is.
Charlotte, of course, would have been in charge of the household and been expected to birth children. While that may have been a common expectation in the early 1800s, most people have greater ambitions than that. To have their own dreams and ambitions subsumed like that is just depressing. To be clear, if that IS someone's ambition, then that's wonderful. Many people want more than that.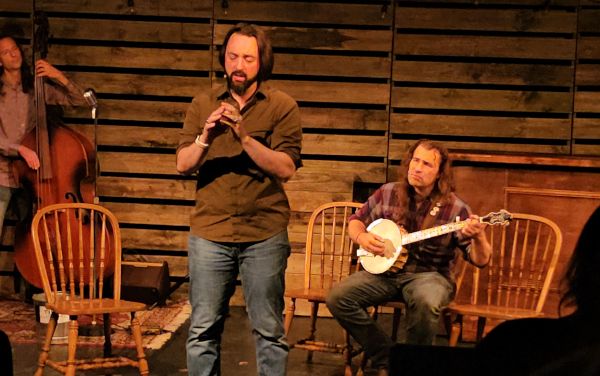 An added wrinkle of understanding came in that two different women performed the role of Willamina Cole in the two years that I've played this character. The first Willamina was power-hungry, using televangelism as a tool for wealth. Her faith was very much in doubt, and when Luke decided to try loving her and finding happiness somewhere in that relationship, she didn't know what to do with that genuine emotion.
The second Willamina actress played the character a bit closer to William Collins in the book. She was over-the-top dorky but significantly sweeter. She became the dork who you root for, who is A LOT, and has turned off many eligible bachelors. In this regard, when Luke decided to dedicate himself to her, she was already very much in love with him. Even this distinction sheds more light on Charlotte Lucas. So much of her potential happiness in her decision is based on how Collins feels about her and how he treats her.
Deeply understanding Charlotte Lucas is to deeply understand the world in which Elizabeth Bennett lived and, therefore, to understand the choices that she made. Lizzy doesn't want to settle. She doesn't want to marry just for money and prospects. She wants to find someone who is intelligent, kind, and capable. She wants to find that person, fall in love, and then marry them. This choice is actually subversive, pushing against the patriarchal expectations put on her. Her father's support of that choice is beautiful.
Now I just need to convince the writers to make a sequel to the musical in which we see more of Luke and Willamina's life together. A down-home protagonist, a televangelism empire, and a wicked Senator DeBerg. Perfect.