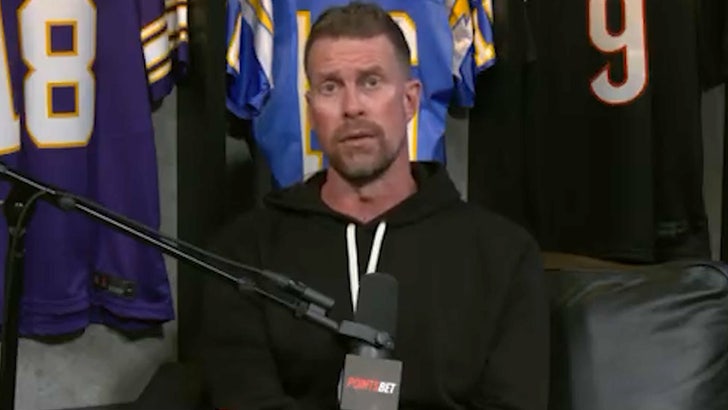 PointsBet
Ex-NFL quarterback Ryan Leaf believes he wouldn't be where he is today if it weren't for Matthew Perry … crediting the late "Friends" star with playing a pivotal role in his sobriety.
Leaf — who's approaching 12 years clean after battling drug and alcohol addiction in the past — poured his heart out about his friend on his "Straight Line" podcast with PointsBet this week … just days after 54-year-old Perry was found dead at his L.A.-area home.
The former No. 2-overall pick kicked off his tribute by stating Perry was "instrumental in my recovery" … before going into detail about how the actor offered his support without hesitation over a decade ago.
"I got out of prison and when I got to Los Angeles, Matt put his arm around me immediately," Leaf said. "And he carried me for like, the first six months probably in Los Angeles, trying to learn how to be a sober person really in a public platform."
"I don't know if I'm here right now, being able to do stuff like this — or anything — if it weren't for him, and him sharing his story and making me understand that you can be a guy in the public eye that everyone knows and still be sober, be humble and be about helping other people."
Leaf explained even as Perry dealt with his own drug, alcohol and mental health issues over the years, he didn't ever leave his side and continued to assist in the athlete's sobriety.
The 47-year-old said his takeaway from the tragedy is Perry was so much more than a TV star — he was a guy who wanted to help others, and that's how he will remember him.
"There's a lot of people that I owe for the life I now have, get to live … and he's certainly at the top of that," Leaf said.
"Matt, we'll miss you. I'll miss you. I hope you are finally at peace because I just don't know if you ever truly were."