So you aren't quite sure what to watch this week?
Good news! We've got you covered with all the new and returning content you should check out below.
From TV movies to alien Encounters, there's bound to be something to pique your interest!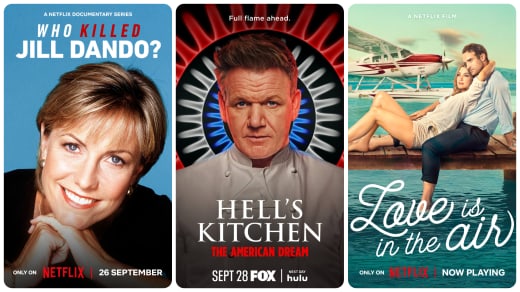 Saturday, September 23
8/7c Stolen Baby: The Murder of Heidi Broussard (Lifetime)
Emily Osment stars in another juicy true crime film from the Ripped from the Headlines slate, and it's bound to have you on the edge.
When Heidi and her newborn suddenly go missing after her best friend, Magen, travels to Texas to be with her, a mystery unravels, and Magen becomes the number one suspect.
Tune in for this twisty ride with fantastic performances!
9/8c All Rise (OWN)
In one of the strongest episodes of All Rise Season 3, Amy and DA Maggie Palmer face off in an organ trafficking case with a cliffhanger no obne saw coming.
Enjoy some lighter scenes as Lola and Mark get drunk and sing karaoke. They are friendship goals!
Now that Luke and Emily are teaming up more at work, will they take their relationship to the next level? Find out Saturday night.
Everyone has gone through some major life changes, but like always they are pushing back! Tune in every Saturday night at 9|8c for new episodes of #AllRise 👩🏽‍⚖️ pic.twitter.com/m7DuCtrNPJ

— Oprah Winfrey Network (@OWNTV) September 21, 2023
Sunday, September 24
8/7c Murder at the Country Club (Lifetime)
Country clubs are known for their exclusivity, but does anyone want an invite when murder is on the agenda?
No, but we'll certainly tune into to see twists, turns, unsuspecting wealthy people dying, and a hotel manager whose life is in danger because of all of it.
There's no better way to unwind on a Sunday night!
9/8c When Calls the Heart (Hallmark)
There's trouble in them there hills far beyond what's going on at Bill's cabin, but worry not, Elizabeth, Nathan, and Bill are on the case.
Rosemary's plan for a Governor's visit works, so the town works together to prepare the big visit.
And folks, that's not even the most interesting part of When Calls the Heart Season 10 Episode 9, so hang onto your hats!
Monday, September 25
Neighbours (Freevee)
The long wait between Thursday and Monday is finally over! Will Susan and Karl get past how much she spent on jewelry after her retirement? As a doctor, Karl might be aware that his wife is displaying addictive behavior, but fighting and making up is in the couple's DNA, so who knows?
Karl's medical knowledge will also lead him to a heartbreaking conclusion: Harold's memory lapses could point to something seriously wrong.
And how long will it be before Paul snaps after Reece uses her power to push him around and force changes at Lassiter's?
Days of Our Lives (Peacock)
Now that Chloe knows Rex and Sarah's secret, things are getting exciting! Will she tell Xander he's the father and risk losing him forever? Or will she keep the news to herself, risking heartbreak later when he inevitably finds out?
The discovery of Victor's will might mean that Vivian's little plot to take over Titan is DOA, but maybe not.
Either way, that briefcase also contains some shocking news: Victor had another son, and the reveal is going to turn some people's lives upside down!
8/7c Kitchen Nightmares (FOX)
Gordon Ramsay dominates FOX on a good year, in this one, he's unstoppable.
For the first time in nearly a decade, Ramsay returns to help struggling (and sometimes disgusting) restaurants get their shnizzle together.
We order in so often now that we rarely see where our food comes from anymore. Expect this to be an eye-popping experience!
9/8c Special Forces: World's Toughest Test (FOX)
A new set of 14 contestants and familiar faces will assemble for the grueling tasks that will push them to their limits.
It may be the most compelling season with controversial figures such as Tom Sandoval, pro-ball players, Blac Chyna, Brian Austen Greene, JoJo Siwa, and much more.
It's a shockingly emotional premiere you won't want to miss!
Tuesday, September 26
Who Killed Jill Dando? (Netflix)
British broadcasting legend, Jill Dando, was killed by a single bullet on her doorstep in 1999 in broad daylight.
Despite one of the biggest homicide investigations in British history, the murder remains unsolved.
This three-part series takes viewers through the twists and the turns of a true crime mystery as her family, friends, journalists, investigators, and lawyers wrestle with the question: Who Killed Jill Dando?
9/8c Savior Complex (HBO)
An examination of missionary work in Uganda where an American is accused of causing the death of vulnerable Ugandan children by dangerously treating them despite having no medical training.
This is an excellent example of a documentary that puts everything on the table and lets the viewer decide where they stand on the issue.
But be careful how quickly you choose sides because if docuseries do anything well, it's taking their narrative and infusing new evidence in the final hour!
9:30/8:30c The Amazing Race (CBS)
It's the Amazing Race Season 35! Can you believe it?
The contestants will kick things off in none other than Hollywood, celebrating its century of existence.
The series is picking up after things had to pause during the pandemic, and a series of changes have been implemented to protect the players. There are also no non-elimination rounds and various dynamic players to fall in love with, so it's a huge season worth watching! Check it out!
Wednesday, September 27
Invasion (Apple TV+)
What will Jamila and her friends find when they finally reach the hospital to where Casper had been sent, the same hospital which the aliens attacked?
How will Aneesha and her Movement allies make out on their undermanned mission to rescue Sarah? Will humanity ever go from defense to offense in their battle with the alien invaders? Only time will tell.
Encounters (Netflix)
For decades, we've relegated alien encounters to the realm of conspiracy, dismissing those who've seen the unexplainable. Now congressional hearings on UFOs bringing revelations from whistleblowers about clandestine Pentagon programs and major journalistic institutions confirm that…we are not alone.
Encounters is a landmark four-part series that travels the globe to explore four extraordinary true stories of encounters with otherworldly phenomena.
Each cinematic and deeply-researched episode tells a single story: strange lights in the sky over small-town Texas; submersible space crafts haunting a coastal Welsh village; an alien encounter in a schoolyard in Zimbabwe; non-human intelligence reportedly interfering with a nuclear power plant in Japan.
The only unfortunate thing is that if you are an unexplained buff, these tales may not be new to you, even if the interviews are.
Thursday, September 28
Star Trek: Lower Decks (Paramount+)
All T'Lyn, all the time. Is that too much to ask?
Our (okay, my, but I'm not alone) favorite provisional Lieutenant Junior Grade is out to solve the mystery of how a trio of boisterous Betazoids have disrupted the equilibrium of everyone aboard the Cerritos.
It's an illogical adventure of epic proportions!
And ICYMI: #Brutherford is a thing now.
No spoilers, but Brutherford is one of our favorite parts of this week's #StarTrekLowerDecks. pic.twitter.com/ixtgILS0Wq

— Star Trek on Paramount+ (@StarTrekOnPPlus) September 21, 2023
8/7c Hell's Kitchen (FOX)
Are you ready for a whole new season of Hell's Kitchen? You know you are! The stars are shining bright in this American-dream-themed season.
The American dream is all about getting knocked down and getting back up again. What else is new, right?
If past seasons of Hell's Kitchen have taught us anything, it's that these chefs will certainly get knocked down during their process of becoming great under Gordon Ramsay's guidance.
8/7c The Golden Bachelor (ABC)
Are you ready for the premiere of the most buzzed-about and unorthodox series of The Bachelor franchise?
We're curious to see how The Golden Bachelor will play out as our septuagenarian stud, Gerry, hands out golden roses to the senior-aged beauties competing for his heart!
It sounds positively delicious already! We can't wait, how about you?!
Friday, September 29
The Wheel of Time (Prime Video)
The second season of The Wheel of Time has gone by before our very eyes, with the penultimate episode building on the drama from the previous outings.
Egwene continues to get used to her new life, while hopefully still holding out hope that someone will rescue her.
With Min betraying Ishamael, what will the consequences be? Did she actually end up changing the future? Only time will tell. Time will also tell what exactly Siuan Sanche, the Amyrlin Seat, wants with Moiraine. Could she be in trouble as well?
Love is In the Air (Netflix)
Rom-com lovers can fall in love with this Australian sweet film that will take flight in your heart. See what we did there?
Delta Goodrem leads as a fiercely independent pilot fighting to keep her family business afloat when she starts to fall for the man sent by corporate to ground her operation forever.
Who doesn't love these romances based on contentious first meetings?
8/7c Power Book IV: Force (Starz)
In the aftermath of a shocking death, Tommy and Diamond Sampson see an increased police presence in the neighborhood that threatens business.
Elsewhere, Jenard continues to struggle and the Fynn family continues to splinter.
If you thought things were crazy before, just wait until you see this one!
Carissa Pavlica is the managing editor and a staff writer and critic for TV Fanatic. She's a member of the Critic's Choice Association, enjoys mentoring writers, conversing with cats, and passionately discussing the nuances of television and film with anyone who will listen. Follow her on Twitter and email her here at TV Fanatic.