Spencer Zahn has announced the companion to his album Statues I, which was released earlier this year. Released as a double LP, Statues I & II will be out on November 17 through Cascine. The new single 'High Touch' is out today, and you can check it out below.
"'High Touch' began as a song that I thought would be good for a singer," Zahn explained in a statement. "It's a love song that is celebratory, triumphant even. It is a dedication much like the entire album. I wrote the chords on a Fender Rhodes and then added a Yamaha CP70 and CS50 to build up the harmony. Once that sound started to come together it felt more like a Jon Hassell recording than a song for a vocalist. Spencer Ludwig was staying at the house for a weekend so I asked him to play trumpet on it and we immediately found the identity of the song. With the doubling of soprano saxophone by Chris Bullock, drums by Booker Stardrum, and additional drum programming and production by Tyler Gilmore, this became one of my favorite songs on the album."
Zahn also shared the following statement about the two albums:
I find it hard to talk about the personal side to my music. The emotional ambiguity in instrumental music is something that I love, and my hope is that people can find meaning for themselves in my songs. I also think that adding some context around why I want to share music is important, without lifting the veil or having the music feel too literal.
My life was full of love, creativity, collaboration, and solitude when I made this music. But change is inevitable and happens when one least expects it. The ground shifted, and as that happened these songs felt even more meaningful as a representation of the life that I had. I wanted to leave these songs as a letter of gratitude for the recent years.
In 2022 I was living a quiet life in upstate New York. I'd spend my days focusing on writing new music at the piano, enjoying the silence in my studio. I had recently finished the album Pigments with Dawn Richard which is a large scale, orchestral album. So sketching out minimalist ideas felt refreshing.
I got into a routine of improvising at the piano each morning. Short sketches that I liked would be developed further. Eventually two sets of music started to present themselves. The first set of music was songs that felt fully formed as solo piano pieces. I could live in these compositions as they were. The songs encapsulated a precious six month period of my life upstate. Subdued, minimal, solitary moments.
The other set of music that developed simultaneously was a series of piano sketches that felt incomplete yet had potential with an ensemble surrounding them. As these ideas developed I wanted to borrow from the production style of Pigments by having other musicians improvise across the core arrangements. Tyler Gilmore aka BlankFor.ms, Spencer Ludwig, Chris Bullock, Jas Walton, and Booker Stardrum all contributed with their depth of musical personalities and helped breath shape, intrigue, and beauty into the songs.
Lastly, the artwork by Hana Tajima for this double album is a series of sculptures carved by her grandfather. She and I have been creating art and music together since she did the design for my album Sunday Painter in 2020. Her paintings, design, and overall aesthetic have inspired me for a long time and this album is a culmination of that.
These two collections are Statues I & II.
Thank you to everyone who put their stamp on this music.
With love,
SZ
Statues II Cover Artwork: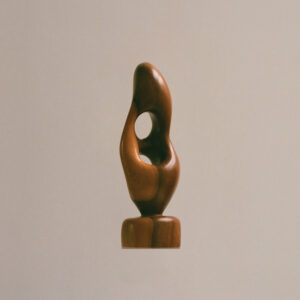 Statues II Tracklist:
1. Changes in Three Parts
2. Morning
3. High Touch
4. OST
5. Wind Unsung
6. Wave
7. Shadow Setup