Mercedes Benz Fashion Week Russia April 19th-24th. Now let's recap.
All the fun and excitement are over, but not to be forgotten. Here is a recap of the Mercedez Benz Fashion Week Russia. Enjoy the press releases and links to insider and behind-the-scenes fun.
Press Release: PR MERCEDES-BENZ FASHION WEEK RUSSIA HAS FINISHED IN MOSCOW
Catwalk Press release & video: Ruban (Russia) Catwalk PR
Follow the link for all the video, PR, and pictures: https://drive.google.com/drive/folders/1TuwRrAJ8iyZuPXmon39WwSrhFNQ1Ji-n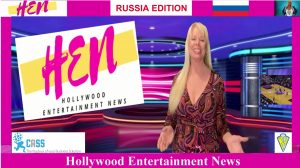 The HEN Russia Edition has fun facts with a focus on Russian stars and their positive good deeds.
Hollywood Entertainment News  (HEN) the (TV show) brings you the best of Hollywood fun fact gossip. Positive fun information about the current hot stars and stars of the Golden era.
Hollywood Entertainment News TV Show is hosted by (KO) Kadrolsha Ona Carole. Smart, talented & witty.
KO is trademarked as Queen of the Paranormal (R). Learn more about KO and her paranormal experience along with her Superhero comic books.
HEN is seen on the Absolute In-Store Digital Screen Network powered by C.A.S.S. HEN is produced by KO Productions.
For Advertising Contact
CASS FIRM 1-678-539-0461
Enjoy the fun and positive vibes.